Turned Wood Champion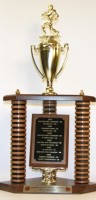 Three Beautiful Turned Wood Columns within Cherry Wood Veneer 3-post base & lid.  Football Runner atop a Victory Cup.  Displaying a 4" X 6" plaque for your annual league winners.  Overall Height 21 inches.
Cherry Wood Veneer 3 Post Base and Lid. Base is 8-1/4" X 8-1/4". 3 - 9" Turned Wood Columns. 6" Victory Cup with 4-1/2" Football Runner atop. 4'X6" Plaque on stand with 8 - 10 annual winners. Base has additional area for logo and/or League Name or "Champions" Overall height is 21 inches.

Updating...