3 Post Victory League Champions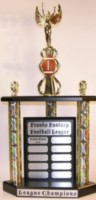 3 post perpetual trophy on black walnut  base.  Black 8"X10" plaque board with header for your team name and logo, includes 10 annual name plates.  29" overall height.
3-12 inch silver columns. Black Walnut 3 post base and lid. 8"X10" Black Plaque with header plate and 10 individual plates. 3 Helmet head trim pieces top of all post. Football riser with victory figure on the top. Overall height is 29 inches. Base plate for league name or just "League Champions".

Updating...